Wood floors are an excellent addition to a home, but they require more care than other flooring types. Because wood is a natural material, it can expand as humidity levels change. If the humidity drops below 20% for an extended period, the wood may shrink. This can cause it to crack.
Another concern is that temperature changes can cause expansion and contraction in the wood, which can also cause damage. For these reasons, you will need to protect your wood floors from moisture, and the best mop for wood floors will help you with this problem.
In this article, I will provide you helpful tips and tricks and tell you what to consider while choosing the wood floor's mop. Here's also a list of the best mops for wood floors on the market with their pros and cons. So let's deep into the mop's world and learn more about these appliances.
✶
The Best 5 Top Rated Mop For Wood Floors
✶
1. Best Overall: Turbo Microfiber Mop Floor Cleaning System
This hardwood floor mop uses microfiber to clean and shine hardwood floors. The microfiber strands are explicitly designed to lift dirt off the floor, no matter where it may be. The microfiber strands also have a thick weave to make sure they are sturdy enough to scrub your floor and remove the toughest of dirt. It's the best way to clean your hardwood floors without having to use any chemicals.
To make cleaning your floors easy, the Turbo Microfiber Mop Floor Cleaning System comes with a special handle that allows you to adjust the height so you can be comfortable while cleaning. The handle also keeps your hands a comfortable distance away from the floor, preventing you from accidentally touching the floor while you're mopping.
The system comes with a mop head and handle, two microfiber refills, and two pads. These pads are machine washable and can be reused up to 100 times.
What I Like:
The Turbo Microfiber Mop Floor Cleaning System is an excellent product for any home, office, dorm, or shop. It is easy to use and easy to wash.
The pads are easy to remove and replace and they can be washed up to 100 times.
The mop handle is made of durable and strong aluminum alloy. It is lightweight and easy to maneuver.
✶
2. Best Dust Mop For Wood Floors: O-Cedar Dual-Action Microfiber Sweeper Dust Mop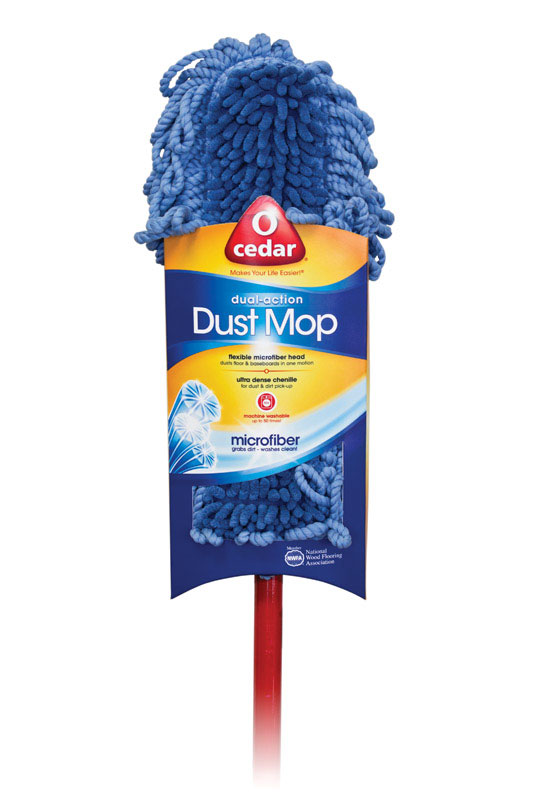 For many years O-Cedar has been a household name in the cleaning industry. Their innovative products and exciting advertisements have influenced how people clean for decades. For a good reason. Their products are cost-effective, easy to use, and they really work.
The O-Cedar Dual-Action Microfiber Sweeper Dust Mop is a versatile dust mop designed to be used on bare floors and smooth surfaces. It features a microfiber head with a soft, dual-action material that will both collect dust and dirt as well as scrub your floors. When you are finished with it, you can toss it in the washing machine for thorough cleaning after each use.
This dust mop for wood floors is an excellent addition to any hardwood floor cleaning routine. It's made with microfiber for easy dust, dirt, and hair pick-up. I really like the microfiber head because it picks up dust without leaving any streaks. The microfibers also work to lift dirt, so it doesn't just settle back down and also helps to prevent scratches.
What I Like:
The O-Cedar Dual-Action Microfiber Sweeper Dust Mop is a good product for those who have hardwood floors. This product is washable and reusable.
With a durable handle and a flexible head, you will have no trouble reaching baseboards and other hard-to-clean areas.
✶
3. Best Steam Mop For Wood Floors: BISSELL Power Fresh Steam Mop
A great steam mop for wood floors is the BIsell Power Fresh Steam Mop. It is a very efficient steam mop. Many things about this steam mop for wood floors distinguish it from other steam mops for wood floors. It is a smart choice for all those who have wood floors and often need to clean them.
While the BISSELL Power Fresh Steam Mop is not cheap, it can clean just as well as other steam mops that cost twice as much. The microfiber pads that come with it work well on hardwood floors, and the machine itself is very easy to use, making it a great option for all homeowners, regardless of their experience with steam mops.
With the BISSELL Power Fresh Steam Mop, you can cut out the use of harsh chemical cleaners and instead use the natural power of steam to sanitize and clean your hardwood floors, which means you can use the BISSELL Power Fresh Steam Mop not just to clean your floors, but also to sanitize them.
What I Like:
The BISSELL Power Fresh Steam Mop is a steam cleaning system for sealed hardwood floors. Instead of using harsh chemicals, steam technology loosens dirt and grime, and then a scrubbing cloth strips them away.
This keeps your wood floors looking their best and protects them from damage. It's not just suitable for wood, but tiles, linoleum, vinyl, laminate floors, etc.
✶
4. Best Wet Mop For Wood Floors: 18″ Professional Microfiber Mop For Wet & Dust Mopping Hardwood, Laminate, Tile, & Vinyl Floors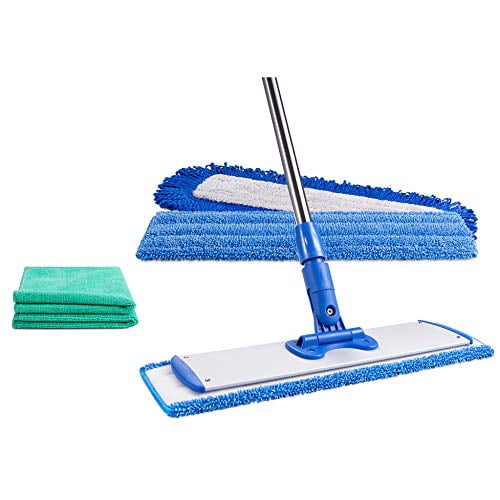 The mop that you use to clean your hardwood floors can make a big difference in how well the floors look. It can also make it harder to clean your floors and can potentially damage the floor.
To help you find the best mop for hardwood floors, I tried 18″ Professional Microfiber Mop For Wet & Dust Mopping and was excited! The product provides excellent cleaning for wooden floors without any difficulties.
This floor mop is designed to tackle tough messes with ease and features a microfiber mop pad that can be cleaned and reused to keep the process as cost-effective as possible. The microfiber mop pads are easy to wash and reuse. Since these microfiber dust mop pads are machine washable, they are more sanitary than traditional mop pads.
What I Like:
The 18″ Professional Microfiber Mop For Wet & Dust Mopping Hardwood, Laminate, Tile, & Vinyl Floors is the must-have item for any household with hardwood floors.
This mop is your best option for a deep clean without the hassle of mopping with a bucket.
✶
5. Best Dry Mop For Wood Floors: Sladust Big Wooly with Metal Telescoping Handle Made in The USA
The Sladust Big Wooly with Metal Telescoping Handle is a great, hand-made, reusable dry mop for the money. This dry mop is made in America and is handcrafted with high-quality American-grown wool. The frame is made of lightweight metal tubing that resists rusting and is coated with resin to assure that it will not start to rust.
This wooden floor mot is made of high-quality wool fibers that are not chemically treated in any way. This dry mop did a great job of removing dirt and dust from my hardwood floor surfaces. I found it worked best in a circular motion when mopping.
Made of 100% wool, this dry mop has a metal telescoping handle, so you can quickly and easily reach the hard-to-reach spots. It swivels, which makes it easy to maneuver. It's not only for home, but for commercial usage also, and will help you clean up all the dust and sawdust quickly and easily.
What I Like:
An all-wool dry mop is a versatile and cost-effective cleaning tool used in many residential and commercial settings.
It's a great choice for anyone that wants a mop that is eco-friendly and effective.
✶
6. Best Sponge Mop For Wood Floors: Yocada Sponge Mop Home Commercial Use Tile Floor Bathroom Garage Cleaning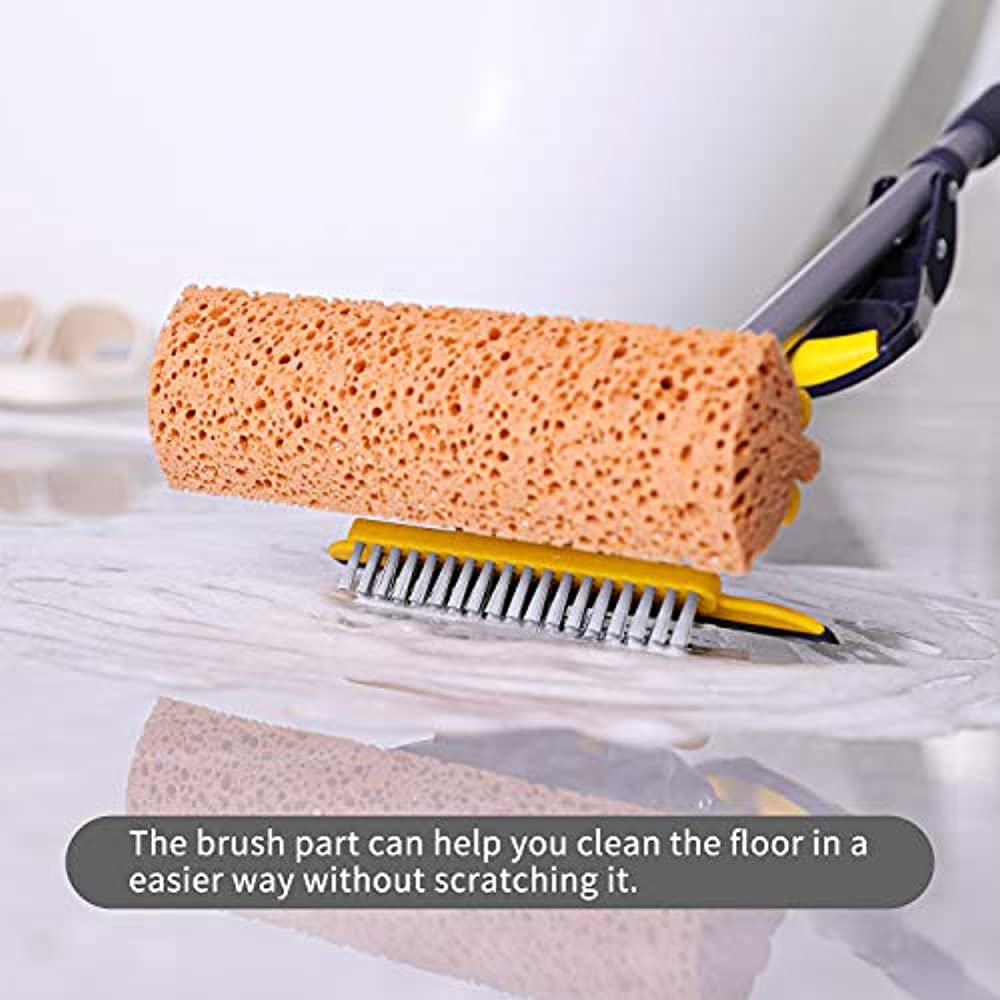 This Yocada Sponge Mop Home Commercial Use Tile Floor Bathroom Garage Cleaning is an excellent addition to any woodworker's tool arsenal. It comes with a head made of a honeycomb sponge that is more absorbent, easier to dry, and stronger breathability.
The Yocada sponge mop is an innovative cleaning tool that can make the job of tidying up your house much easier. This sponge mop is the first of its kind, and it leaves your floor looking like it just had a professional cleaning.
The Yocada Sponge Mop Home Commercial Use Tile Floor Bathroom Garage Cleaning is the perfect mop for wooden floors. It is suitable for all types; no matter you have a wooden floor, laminate floor, bamboo floor, or a parquet floor, you can use it to clean them.
The mop is pretty simple, and that's not necessarily a bad thing. The handle is incredibly sturdy, and the base is rotatable, which is incredibly useful. The Yocada can be used as a mop, as a squeegee, and even as a scrubber.
What I Like:
The mop is very easy and convenient for you to use.
You can remove the sponge section for thorough cleaning. You can just rinse the sponge section under the tap to remove all the dirt.
✶
Buyer's Guide
The use of floor mops has grown rapidly in the last few years. The main reason for the popularity of mops for wood floors is that they are far more gentle on them than traditional mopping methods. Traditional methods that use a bucket and a mop or a string mop tend to leave scratches on wood floors and can also leave a sticky residue behind.
So I want to talk about what types of wooden floor mops are available and the best of them to use.
✶
Dust Mop For Wood Floors
The term "dust mop" refers to various kinds of household tools used to remove dust or small debris from hard floor surfaces. While a dust mop was originally a piece of string tied to a stick used to wipe up dust and dirt, modern dust mops come in various shapes and sizes.
While some are similar to a regular mop, others look like miniature brooms with strings attached to the end. They are made from specially designed materials that are suited for collecting dust and dirt from hardwood floors.
✶
Steam Mop For Wood Floors
Most wooden floors are cleaned with a mop and bucket, but there's a new product on the market that could change all of that. Steam mops have been in existence for years now, but never one specifically designed for wood floors. Now, however, there is a steam mop that can get wood floors clean and shiny without the use of harsh chemicals like ammonia and bleach that can damage the wood.
A wood floor steam mop works by spraying a fine mist of water and cleaning solution onto the floor. The steam made from the water and cleaning solution loosens and removes dirt, dust, and other grime from the wood floor's surface.
✶
Dry Mop For Wood Floors
If you have a wood floor and you want to polish it dry, then a dry mop is what you need. The dry mop is a wooden or plastic product that is used to polish wood floors. They are ideal for unfinished or freshly installed wood floors. Dry mops have become very popular in the past ten years.
These mops are made of wood, nylon, and sometimes stainless steel. Most of the time, the dry mops are circular with a handle that can rotate. They are pretty simple in design. The main purpose of the dry mop is to make wood floors shiny.
✶
Electric Mop For Wood Floors
Although the electric mop is a relatively new invention, the idea of using electricity to clean floors is far from new. Early floor cleaners consisted of a manual mop that was attached to a metal pole. The pole was then connected to an electrical source, such as a wall socket or battery pack. These floor cleaners were used to wipe up wet spills or dust.
Today's electric mops are very different from these early versions. Most of the electric mops you find on the market today are designed to remove dirt, grime, and sticky spills from your floors. In other words, you can use an electric mop to clean your floors in the same way you would clean your countertops.
Thanks to its super-lightweight design, it's easy to take this electric mop for wood floors with you when you're cleaning other parts of your home, and the detachable water tank makes it easy to fill up between uses. It's also easy to adjust the mop head's height, so you can get the right level of scrubbing to get your floors nice and clean.
✶
Microfiber Mop For Wood Floors
When you are looking to purchase a microfiber mop, it is important to understand how the different materials will affect your cleaning experience. Microfiber mop pads are made from polyester, and the mop head itself is made from polyester yarn. The polyester fibers are solid, which means that microfiber mop pads will not tear easily. In fact, it is challenging to pull a microfiber mop head, even with the use of harsh chemicals.
This kind of mop has an absorbent head that is made of microfiber strands. It can be used with a wood floor cleaner or with water and vinegar. The microfiber strands attract and absorb dirt and other particles that land on your floor, making it easy to get rid of grime and leaving your floors clean and shiny.
✶
FAQ
What Kind Of Mop Is Best For Wood Floors?
Functionality is the most important thing for mops since the opposite of "functional" is "useless." For that reason, microfiber is an excellent choice for wood floors. It doesn't leave any residue behind, and it gets floors clean quickly. Even though some mops are explicitly made for wood floors, any microfiber option will do the job and will cost less to boot.
What Is The Best Mop For Wood Laminate Floors?
Have you been searching high and low for the perfect mop for your wood laminate floors? If so, you may be surprised to find that the best mops for wood floors are nothing like the mops you use to clean other floor surfaces like tile or linoleum. Laminate floors are sensitive, so using the wrong method can damage the floor's finish. You need to use soft mops, like microfiber or dust mop.
What To Use For Mop For Wood Floors?
When it comes to selecting what type of mop you should use for your floors, there are a few things to consider. Flooring is an important investment, and you want to make sure that you take the best care possible. Keep in mind, however, that not all mops are created equal. While some do an excellent job of cleaning various floors, others are only meant to be used on particular surfaces. Take the time to read some of the things that people who have used specific mops have to say about them. Do some experiments of your own to get a feel for the pros and cons of each type.
✶
The Bottom Line
Wood floors are a natural flooring option with many benefits, but they are also a bit more delicate than other floors. If you want to protect your wood floors from dirt, grime, spills, and other damage, it's a good idea to use a good-quality mop.
In this article, I provided a selection of some of the best mops for wood floors currently on the market, along with a guide to help you choose the best one for your home.