Have you ever worked on a wood or carpentry project and felt that the job could have been a lot easier if certain tools were at the ready? You're not alone. It seems as if there are never enough power tools to make things easier, no matter one is a professional or a hobbyist.
Wood routers are one such tool that can definitely ease your workload. If you've never tried it out for yourself before, you'll quickly wonder how you went about the carpentry work for so long without ever using one.
They allow holes and other hollowed portions to be made by moving the tool around (to the desired shape). This isn't fixed either, so you're not limited to a table, as you would be on some wood-cutting appliances. If you're not sold yet, you will be by the time you've looked at the five high-quality wood routers below.
Chosen for horsepower, speed, and ease of handling, one of them is sure to be the next big hit in your workplace. A Buyer's Guide follows, along with a showdown at the Conclusion that describes the best routers from the list. Let's begin!
Best Wood Routers – Top 5
5 Best Wood Routers Reviews
1. DEWALT Router Fixed/Plunge Base Kit, Variable Speed, 1.25-HP Max Torque (DWP611PK) – Best Wood Router for The Money (Editor's Choice)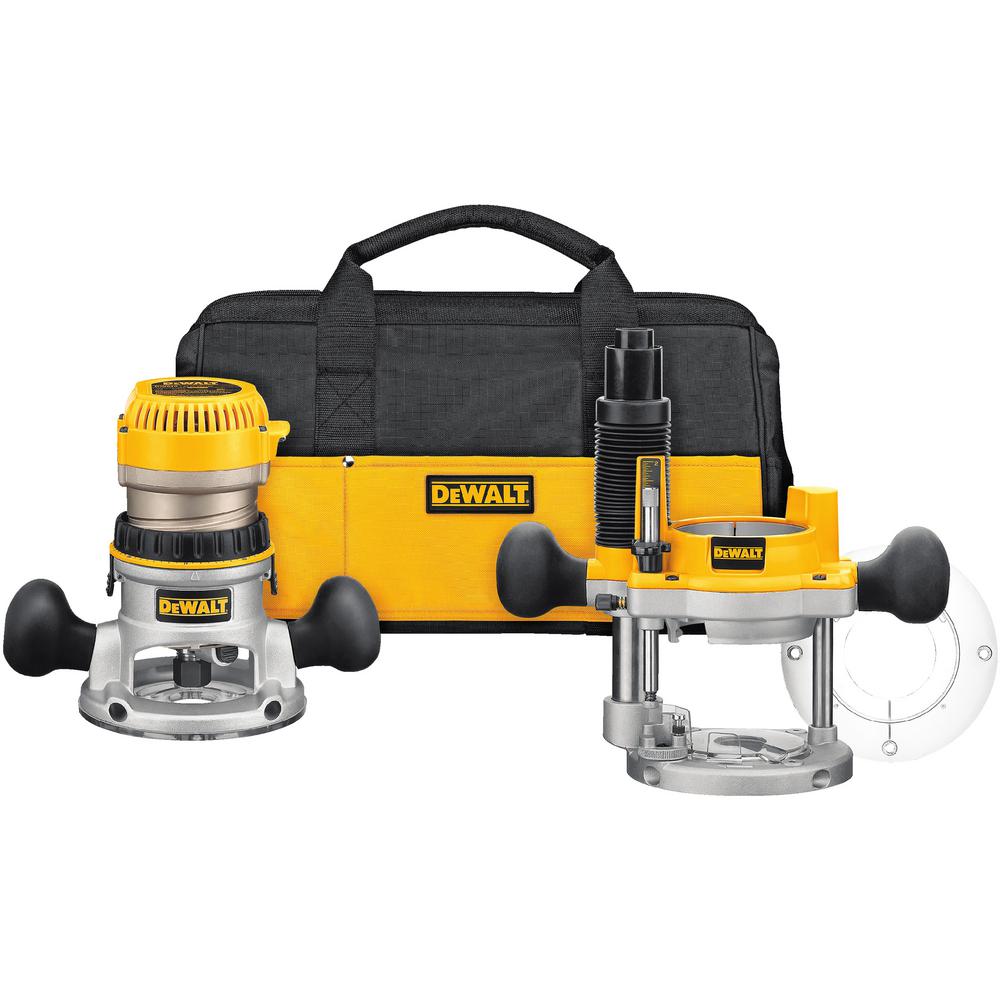 The Dewalt Router Fixed Plunge Base Kit takes away the problems associated with some wood routers and amplifies the benefits several-fold. If you want a router that you won't have to fall back on a replacement after a few years have passed, you're looking at the perfect tool. Aside from the yellow exterior that makes Dewalt tools so easily identifiable, you might be surprised at some of the features. Take the flashlight for example. Although you might not think about it, it's something that every carpenter has needed at some point during their cutting. With the LED light provided on this tool, you'll rarely find yourself going over spot due to an error in vision when the cut was made.
The plunge base is well built, being entirely adjustable and minimizing the likelihood of the entire router slipping as you cut. Again, this is a problem that can commonly occur, no matter what sort of routers you're using. But with this too, those issues go away instantly when you turn it on and begin working on your project with it. Switching the bases is also lightning fast and keeps you focused on making your cuts instead of the time it takes from having to pause during work intervals. And best of all, it doesn't emit a lot of noise at all. While you can clearly hear it in a room that's close by to your work area, noise pollution will likely not wake up any sleeping neighbors.
Important to know
The biggest drawback to this is that the machine emits a lot of dust that seems to spread out all over the place as it cuts. Be prepared for a messy cleanup if the level of time spent on your project will go on for over an hour. And the power cable is extremely stiff, making it harder to position, particularly if your plug is housed in an awkward part of your workstation. However, all other problems could easily be solved if they do come forth (with a vacuum and extension cord). If you're still unsure away which product to choose by the end of this article, it's assured that you'll love this Dewalt router.
Pros:
LED lights are built into the router, aiding vision while cutting.
Plunge base adjustments lower the chances of slipping.
It can quickly switch between bases.
Noise will stay at an acceptable level when the device is turned on.
Cons:
Dust gets all over the place.
The power cord is very rigid.
---
2. Makita RT0701CX7 1-1/4 HP Compact Router Kit – Best Wood Router for Beginners (People's Choice)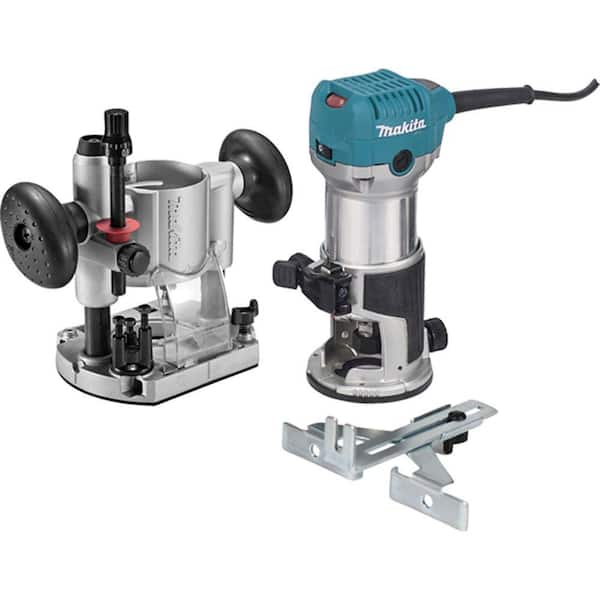 The Makita RT0701CX7 is a smaller router than the Dewalt product detailed above but has many of the same advantages. Yet there's also a few exclusive tricks of this tool's sleeve. If you're a beginner that has little experience with using power tools, this is probably the best router for your project. One of the things that bother newbies when starting up any electronic tool piece for the first time is (you may have guessed) the startup process.
This can be due to many factors, but most likely the RPM rate (the spinning, or rotations) when it suddenly gains power. Although not a problem for all beginners, it could result in a harder time getting the hang (and handling) of the machine. Makita has taken away such burdens by allowing the user to crack up the tool at a slow pace, whereby it gradually gains power when dialed to a higher level. Another great attribute that's beneficial for newbies is the base. It'll never get in your way, remaining conspicuous for the entirety of the router's use. And if you're worried about a lack of attachments, don't be. Guiders are in the perfect spots, and all small parts near the blades are tailored to make it easy for anyone to use, whether first-timer or professional.
Interesting to know
Yet there is one room for improvement with this product, and it has nothing to do with the tool itself. No carrying case is featured, which means that you'll have to fetch one at the same time that you purchase the machine if you anticipating travel with the router. You don't want this to become damaged from being exposed to the elements; get yourself a case and nothing of the sort will ever happen. In a nutshell, this is a powerful and compact router for anyone that's a novice at power tools, but equally beneficial to intermediates and professional carpenters.
Pros:
It can be started at a slow pace, useful for beginners.
The base is conspicuous, allowing superb handling.
It has lots of different attachments and guides.
Cons:
No carrying case is included with the product.
---
3. Bosch 1617EVS Wood Router Tool Kit – 12 Amp 2-1/4Hp Fixed Base Hand Router with 1/4″ & 1/2″ Collets – Best Small Wood Router
The Besch 1617EVS Wood Router is Tool Kit that includes two router collets, gauged at 1/4 and 1/2 inches. Don't concern yourself for getting any, at least when first using the machine. Over time you'll likely have to replace them, depending on the machine's level of usage. The weight is average for a wired wood router, weighing just under ten pounds. If you're a pro at carpentry tools this could be a very good thing, since the weight could add better stability during the handling and provide smoother, more accurate cuts overall.
The adjustable height is also nice, whereby the user can lock it once set to the desired position. the variable speed control options are nice and precise; you can switch up the RPM quickly and no chances in the shape of your cut will happen. While all of these features can greatly aide in the handling, none are more important than the actual handles themselves. They resemble little wooden door knobs allowing both hands to grasp the router and generate little vibration when shaping.
Interesting to know
Is there anything that can be improved with the Beach? Of course; no power tool is perfect. Take a look at the exterior portions of the product. You'll see that a majority of on consists of aluminum, which could potentially scratch if something heavy or shape were to grind against it. If you drop the router, chances are high that you might dent up a portion of the tool's body. Try to be careful with it during hauling it around. And more importantly, consider a carrying case if taking it to work and back home.
Pros:
The height can be locked after it's adjusted.
Precise when changing speeds (has variable speed).
handles take the shape of doorknobs, giving the users great control and stability in their cuts.
Cons:
Much of the exterior is made of aluminum, which will scratch if brushed against something that's denser.
---
4. DEWALT Router, Fixed/Plunge Base Kit, 12-Amp, 2-1/4-HP (DW618B3) – Best Wood Router for Router Table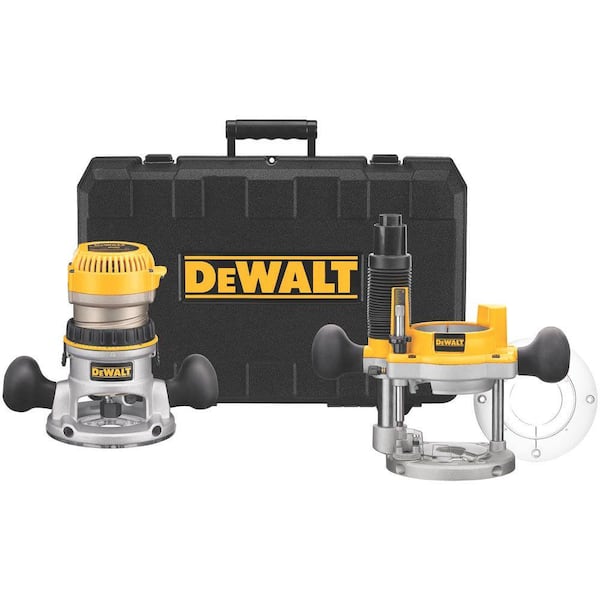 This Dewalt router is labeled the DW618B3. It's almost similar to the first Dewalt router, but with a few key differences. This one, like the first, has a carrying case. You won't have to do any last-minute shopping to find something to place your router in when it goes in the care with you. The case is very strong, shielding the tool from dust and moisture. This tool is meant for cutting through hardwoods, which means that softwoods are a breeze to go through as well. Don't concern yourself with wood density too much since a majority of home wood pieces consist of softwood anyway. Of course, that's not to say that you should still know what you're getting before you buy.
Important to know
But with the DW618B3, there's no in-between. The wood of all types will act as butter when placed in front of this router. A major benefit here is the fact that it comes with a very high-quality dust collector. You won't have sawdust all over the place when you're done with your work here. Yes, some cleanup should be expected yet it won't be serious enough for you to take longer than an hour to get your workstation spotless again. Unfortunately, you will have to be extra careful to avoid the interior getting moisture inside.
If this happens, chances are very high that rust will develop in some areas where you cannot see it until the last minute. To prevent this, always leave the tool in the provided carrying case as soon as you're done working. Sure especially vigilant of this if operating in work locations that are high in humidity or moisture. With this in mind, there's nothing else to be wary of. Consider the router if you're not excited about hunting down other accessories to go along with the router.
Pros:
It comes with a durable carrying case that's waterproof.
It can cut through dense hardwoods without stalling or becoming too hot.
A dust collector is included, dispensing the majority of residue product during cutting.
Cons:
Some of the interior pieces could rust if neglected.
---
5. PORTER-CABLE Router, Fixed Base, 11-Amp (690LR) – Best Wood Router for Stability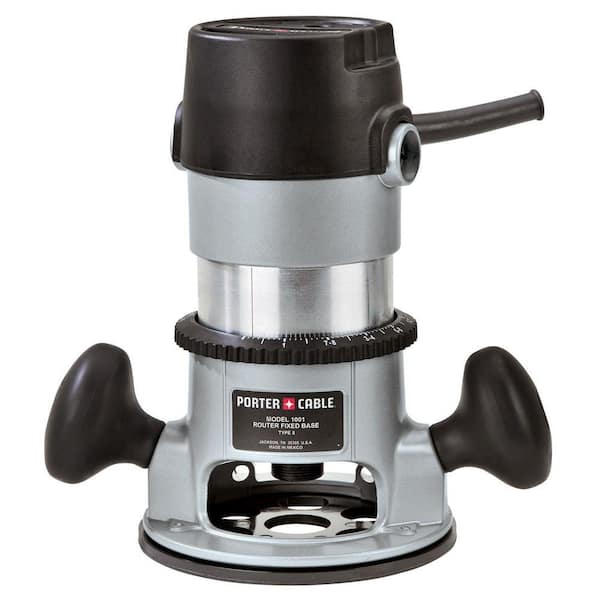 A Porter-Cable Router is a perfect tool for people who want something that's powerful and runs smoothly. The vibrations can be a huge annoyance when using power tools. This can be true regardless of one's experience with them. If you have the feeling that's leftover in your hands over using a machine that shakes too much, the Porter is a good area to focus your search on. The exterior is built to last and won't take on scratches or dent easily. Yes, you can't break it but it won't be something that'll occur under the ordinary stresses of using the machine on a daily basis.
The handles are made in a way that should conform to most hand sizes. You can maintain a solid grasp all the time without anything slipping. They also resistant to sweat and your palms will stay in the location that you place them when beginning your cutting. If you're not aware, machines getting hot is oftentimes not the best thing to happen.
Interesting to know
Heat can deplete their life over long time spans and this product get's exceptionally warm. So warm in fact, you might be tempted to turn off in the middle of some of your work. As a result, time spent taking a break in between cuts may significantly delay the time that you anticipate work on some projects. Still, think about making this router your next purchase if you like the idea of proper handling and enjoy smooth operation that won't irritate your fingers.
Pros:
Runs at a smooth pace with little to no vibration.
Built with strong materials that won't scratch up or damaged the routing when up under ordinary stress.
Handles are easy to grip, even with sweaty palms.
Cons:
The entire router sometimes gets hot and may need to be turned off occasionally.
---
Buyer's Guide
Use the guide below to know which of the routers named above is an idea for your next woodworking project.
How to Choose the Perfect Wood Router?
Looking for a good router isn't as easy as going for the one that looks the most visually appealing. If you do that, you'll quickly discover that power tools can often end up being cheap works of art if the more important features are ignored willfully. First, know what type of wood will be cut by the machine. When you have that figured out, it's time to move on to where you expect to use it the most. If taking it to a job site, pay special attention to the router's build quality.
Why is this important? Work locations are a tendency to age machines faster, more so if they're not built well. If the product lists what materials were used during the assembly, take note of it. If there's too much aluminum in the built quality, you might be better off leaving that machine exclusive to your home-cutting projects.
Being Prepared for Transit
Traveling with a machine of any kind means that the person moving it should have adequate carrying items to get the tool from one place to another. This can be achieved by placing it in something that won't break it, shielding the interior from dust and water damages. Failure to do so typically results in tools that have short lifespans.
Of course, you want to avoid this. Check the router on the product's description and see if there's a bag included with it. If you don't see one, you have two choices. You could either find a bag separately from the product or look for another router altogether. Just keep in mind that if you choose the former, the case must be large enough to fit the entire router securely.
Beginner-Friendly Features
Many people first hear about wood routers online, at least those who have neat were used in the past before. If this is your first time thinking of buying one and you're starting from scratch, try to get as much information about them as you can.
That way, you'll know what to expect from the machine, its limitations, and the things you realistically do with it. Check the item's description to see if there are any features that would make it easier to run from the start with a lower RPM.
Additionally, variable speed controls are a good attribute to look for. With them, you can quickly change up the rotations fast, making your cuts come out more precisely when doing. The handles should be small enough for your entire hands to cover them but not big to the point where holding it feels like grasping a basketball.
When all of these things are met, it's ensured that you will have a great machine that'll be easy to master. And don't forget to read through the instructions as soon as it comes to your door. Fortunately, many routers also include a downloadable copy of the instructions on their description page.
Commonly Ignored Problems that You Should Look For
Having already gone over issues with carrying cases, another problem that customers sometimes run into is not having collets for the router. However, this is not the case for any of the brands shown in the reviews above. the typical collet size for most of these tools is either 1/2 and 1/4 inches. If you get a router without a collet, you would be able to cut any wood. As such, ensure that the company will provide you with at least one collet. It grasps the router bit, working in tune with the shaft, which in turn is attached to the motor.

Summary/Conclusion
Do any of the routers above look promising? If so, does it conform to all of your needs? If you haven't checked already, this was laid out in the Buyer Guide. Read up on it if you haven't done so already. Although it won't guarantee that you would know what to pack when you're done, there are two at the top for you to settle on. Still unable to reach a conclusion into the one you think is best? Look into buying the first and second products before any of the others.
If you've forgotten what they were, the Dewalt and Makita RT0701CX7 (numbers 1 and 2 respectively). Both contain everything that you would need to use a router, with minimal hiccups. The others are nice as well; one of them could be a better choice if you're unfamiliar with using wood routers. Regardless, you'll be in good hands no matter which product you settle on.