Garage floors are exposed to many hazards that can cause cracks and ugly stains. Whether it's oil from your car, paint from your kid's toys (or yours), or dirt and debris tracked in from outside, a garage floor can often look bad, no matter how clean and well-organized the rest of your home is. The solution? A coat of paint, of course! Making your garage floor look new again is comfortable with the best garage floor paints.
The paint serves to give the floor a nice finish and fill in the cracks and chips that can exist in the concrete. You can paint a garage floor using a roller or a sprayer, but using a sprayer is the best method. It is also the fastest way to paint a garage.
Garage floor paint is a new product that is quickly gaining popularity. It's a coating that you apply to your garage floor. This paint coating will make your garage floor look shinier, cleaner, and more presentable – this much cheaper than a brand new garage floor.
A garage floor coating is more flexible than a regular garage floor and will not crack, split, or curl. It's also easy to install and can be applied to garage floors that are already broken and damaged.
5 Best Garage Floor Paints
✶
1. Best Overall: KILZ L377611 1-Part Epoxy Acrylic Interior/Exterior Concrete and Garage Floor Paint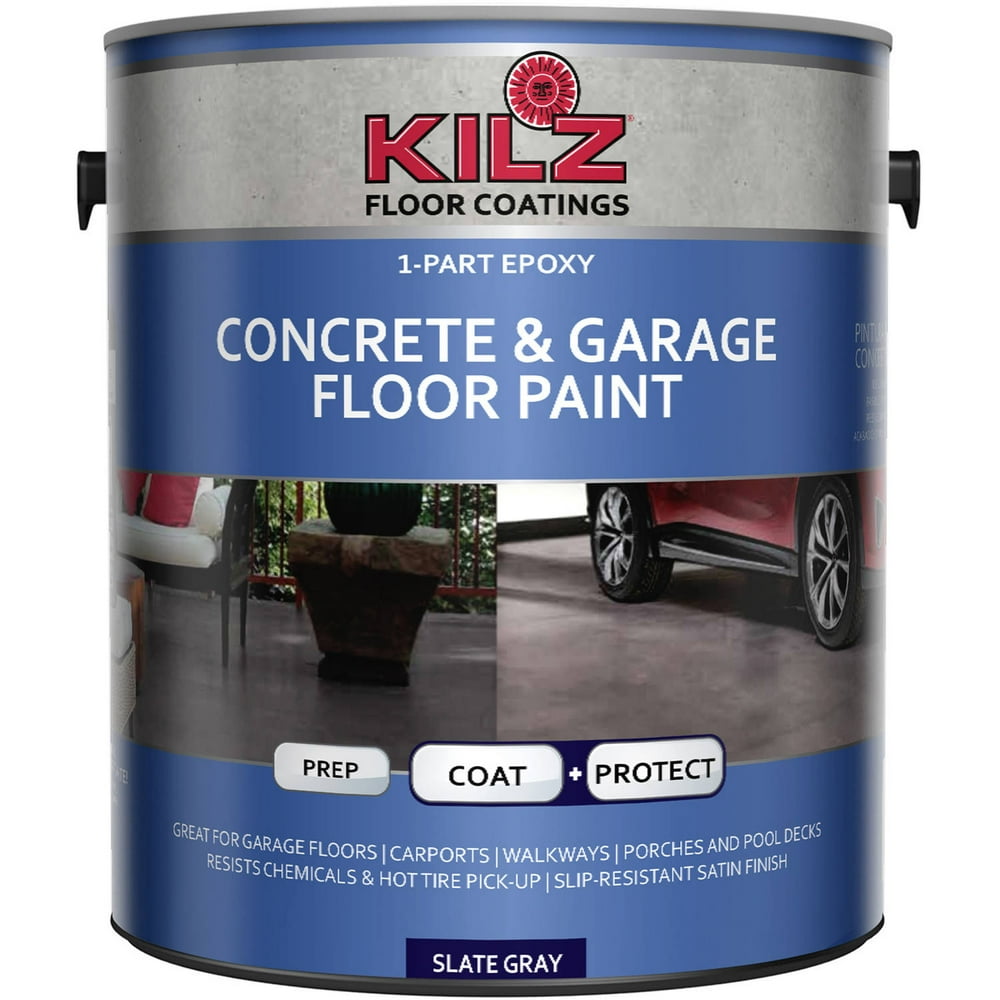 KILZ 1-Part Epoxy Acrylic Interior/Exterior Concrete and Garage Floor Paint is waterproof paint that promises to stand up to harsh weather elements and heavy vehicular traffic. The paint is also reported to be easy to clean and apply and comes with a guarantee that ensures the product's quality.
The best part is, this paint can be applied on both interior and exterior surfaces, meaning you can use it to give your garage floor a makeover and protect it from damage.
This paint is formulated to last in hard-to-clean areas like basements and garages, so you can use it on your garage floor without worrying about it wearing out too quickly.
It's also resistant to staining and damage from chemicals, oil, and gasoline, so it's going to keep your garage floor looking great for years to come. This one-part, acrylic exterior/interior floor paint is resistant to mold, mildew, water, and alkalis, and acids.
What I like:
Premium epoxy paint is designed to preserve and protect concrete and masonry surfaces.
The high-quality epoxy paint has a satin finish and applies smoothly and evenly to floors and horizontal surfaces.
The paint dries to touch in 2 hours and fully dries in 24 hours.
It can be re-coated in 4 hours.
KILZ products are made in the USA.
✶
2. Best Epoxy Garage Floor Paint: Rust-Oleum 261845 EpoxyShield Garage Floor Coating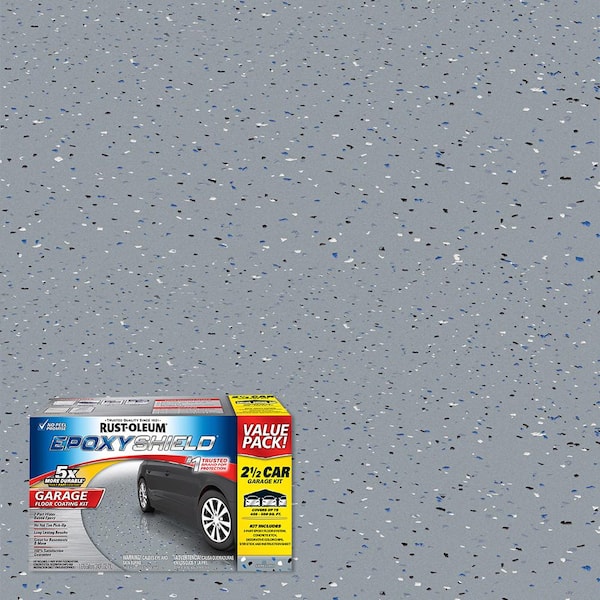 Rust-Oleum 261845 EpoxyShield Garage Floor Coating is an excellent product for someone looking for a way to protect their garage floor. This coating is designed specifically to reinforce concrete and provide the best protection for your garage floor. It can be used indoors, so it's perfect for any type of garage or shop.
It's also easy to use and dries quickly to allow you to begin working in the garage or shop area asap. It takes a full 72 hours for the coating to be completely dry, and you may notice a smell while it is drying.
This product provides a tough and durable finish that will last for years to come, so you won't have to worry about garage floors getting stained by oil or other liquids.
It is easy to apply, dries quickly, and can be cleaned with soap and water. It also dries into a very tough surface, making it perfect for cars to drive over.
The product should be applied to a clean, dry, and structurally sound surface. The surface should be rough cut and free of dirt, oil, grease, and loose material.
What I like:
The coating is solid, and it is not easily deformed.
It can even withstand the weight of heavy-duty trucks.
✶
3. Best Rubber Garage Floor Paint: Flex Seal Liquid Rubber in a Can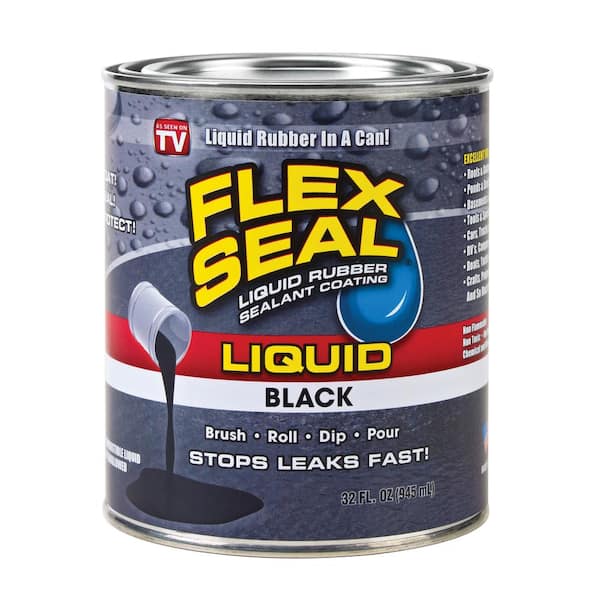 This product is a versatile sealant that can be used on the garage floor. It is a water-resistant rubberized coating that can be applied in a variety of ways. The Flex Seal Liquid Rubber is easy to apply and dried very quickly to a tough, flexible rubber coating.
You can also use this liquid rubber to seal cracks, patches, and holes of any size, including holes in the foundation of your home. Flex Seal Liquid also works on metal, wood, concrete, and masonry. It comes in a variety of colors, but I went with the clear liquid rubber in a can to seal a crack on the side of my home.
What I like:
This liquid rubber that you can brush, roll, dip or pour on.
It is supposed to be watertight and flexible.
Versatile applications – cover basement, roofs, car trucks, garage floor, and so much more.
✶
4. Best Acrylic Garage Floor Paint: FIXALL Skid Grip Anti-Slip Paint, 100% Acrylic Skid-Resistant Textured Coating
If you're looking to add some grip to your garage floor, patio, pool deck, playground, or other slippery areas, then you'll want to check out the Fixall Skid Grip Anti-Slip Paint. Not only does the product make a surface much safer, but it also makes it look better.
This product can be used in many different ways, but it appears primarily to cover surfaces that would otherwise present a slip and fall hazard. FIXALL Skid Grip Anti-Slip Paint can be applied not only for the concrete garage floor but also for cement, stone, asphalt, and other surfaces.
This acrylic garage floor paint is a high-quality, durable coating that can make a surface skid resistant.
What I like:
It is best suited for indoor or outdoor surfaces.
Buyers have the opportunity to use several colors (red, green, grey, and others).
One coat of the Skid Grip coating is sufficient to achieve a skid-resistant surface.
✶
5. Best Oil-based Garage Floor Paint: Diamond Brite Paint 1-Gallon Oil Base All-Purpose Enamel Paint Black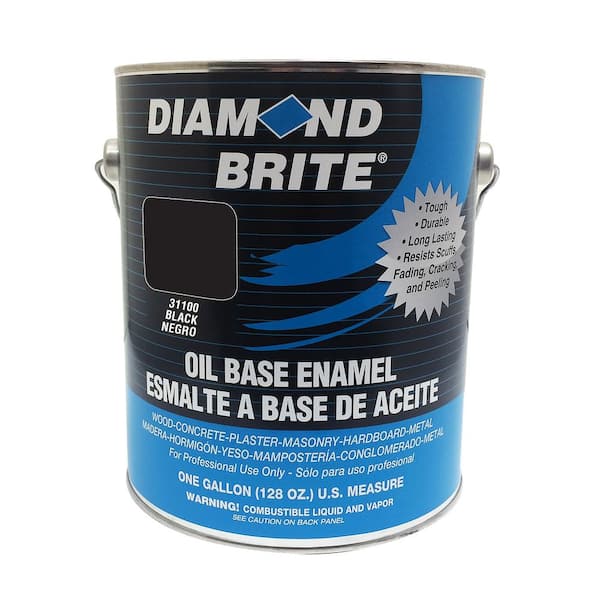 There are many types of paint on the market today, each with its benefits and drawbacks. One of the most popular types of paint that can be found on the market is oil-based paint, like Diamond Brite Paint. Due to the oil in the composition, this paint dries slowly, providing a deep, lustrous finish.
Such paints are very common and used by many people on both interior and exterior surfaces. You can easily apply this paint to the garage floor to improve its durability.
Diamond Brite Paint 1-Gallon Oil Base All-Purpose Enamel Paint is a high-quality paint available in various colors. It does not have as much shine as high gloss paint, but it provides a tough, durable surface resistant to scuffs, fading, cracking, and peeling.
What I like:
It provides an excellent finish, and it goes on easily and smoothly.
It provides a very tough, durable finish that can withstand typical household and garage hazards.
The paint dried nicely in just a few hours, and it was ready to be walked on after two days.
The paint is very thick and has a nice creamy consistency that allowed it to go on smoothly.
✶
Buyer's guide
Garage floors are usually concrete or asphalt surfaces that are used for parking and containing automobiles. In general, concrete or asphalt garage floors are very easy to maintain.
However, the floors can quickly get stained or dirty. Before you know it, your garage floor has turned into a stained and dirty surface that is not so appealing anymore. It is at this point that we highly recommend you use garage floor paint.
Preparing garage floor for paint
The key to any paint job is preparation, and to get the best results, you need to follow recommended steps for preparation. To ensure a tough finish that will protect your concrete or cement garage floor, it's recommended that you sweep away all excess dust and loose materials. Then, pressure wash the floor, remove any old paint, wax, or other residues to prevent the new paint from bonding to the concrete.
When painting a garage floor, there are many things you need to consider before you begin:
You need to remove any oil, grease, or contaminants on the floor, as these will prevent the floor paint from adhering to the floor's surface. Start by using a degreaser to remove the oil or grease with a putty knife. Then use a pressure washer to clean the floor.
If the garage floor has been painted before, and you are painting over the old paint, scrape off as much as you can with a paint scraper. Then use a wire brush to remove any remaining paint.
You can paint the floor in sections if there is a large area too large.
How to paint a garage floor
Whether you are looking to add a fresh coat of paint to a bare concrete floor or completely replace an existing surface, garage floor paint products make it easy to paint a garage floor.
It's not rather hard to coat your garage floor with painting. After you have thoroughly cleaned the surface, apply the paint according to the instructions on the package. Wait until the paint is completely dry. Only then can you use two or three layers of paint, if necessary.
After all, coats are applied and the surface is dehydrated, you can use the garage, place the car, install other fixtures.
How to paint garage floor with epoxy
Garage floor painting is the best option for you if you are looking for a long-lasting floor coating for your space. Painting garage floor with epoxy can cover cracks, minor damages, and even the worn-out sections. Painting your floor with epoxy will make it a lot easier to keep clean, and it will also give it a brand-new look.
Epoxy is an eco-friendly paint that is an excellent solution to paint your garage floor. It is one of the best solutions for the dirty and ugly garage floor. It is easy to use and gives an attractive look to your garage floor. Just apply one or two layers of epoxy garage floor paint, let them dry, and start to use your brand-new garage.
How to remove paint from garage floor
There are many different ways to remove paint from a concrete floor, but not all are equal. Paint removers can be expensive, and they may not remove paint evenly. The best way to remove paint from the garage floor is to use a pressure washer, but you must be very careful when you do so. Using a pressure washer will damage the concrete if you are not careful.
Oil-based paints tend to stain concrete floors, but most of them can be removed using a stripper. Alternatively, some paints can be scraped off of the floor. Most modern paints are water-based and can be removed with different chemicals.
To get it off without leaving any residue behind, you'll need to use a chemical stripper – but make sure to follow the instructions on the product label!
Why is garage floor paint peeling
Garage floor paint is primarily applied to create a durable, high gloss finish that is easy to clean and maintain. However, in some cases, peeling of the paint may occur due to some factors. Environmental factors such as sunlight, water, and other elements may cause the paint to peel off the floor.
Another trouble that can happen: within a few days after painting, the paint peels off, revealing the original floor below. What happened? The new paint job that just finished is peeling because of a variety of reasons. One of these reasons is the fact that the paint was applied incorrectly. Another reason might be because the paint that was used was not correctly primed to the floor.
How long for garage floor paint to dry
Factors like temperature, humidity, ventilation, and the type of garage floor paint you use, will all affect the drying time for garage floor paint. When it comes to moisture, the higher the humidity, the longer it takes for paint to dry. Commonly, you need to wait at least 24 hours for complete drying unless otherwise indicated on the package.
Garage floor paint vs epoxy
This is a comparison between epoxy and paints for garage floors. Both garage floor paint and epoxy are used to make a garage floor look great. The difference between garage floor paint and epoxy is the cost.
Epoxy will cost a bit more than garage floor paint. The more you buy, the less expensive it is. Epoxy is best for decorative garage floors where you want to see a pattern or color in the floor, while garage floor paint is excellent for covering up old stains or scratches on a garage floor.
Garage floor paint vs tiles
Garage floor paint and garage floor tiles are two ways to cover a garage floor. Both products are available in different colors and patterns. The paint or tiles can be used to repair a garage floor that has been scratched and damaged or to create a new look for the garage floor. The paint and tiles are both easy to use, but the differences are essential. If you plan to have your garage renovated, you should know the difference between garage floor paint and tiles.
The main difference is coloring. Applying the garage floor paint, you can use only black, white, red, or other plain colors. While laying floor tile, the floor design can vary. This is the advantage of floor tile.
On the other hand, floor tiles do not protect the concrete surface from fungus, mold. You will have to apply a mold-resistant sealer to prevent the spread of mold in the future. Each of these coatings has its advantages and disadvantages, but they are both good for covering garage floors.
Garage floor paint vs stain
Garage floor paint is the ideal solution for homeowners looking to build up their homes with a protective, decorative, and durable coating for their garage floors. It can be applied to concrete and epoxy/slab floors. The paint can be rolled or brushed onto the surface and does not require an expert to install.
The paint can also be designed to match the look of the garage floor's existing surface – concrete, asphalt, and more – as a way of creating an incredibly seamless look. Alternatively, some garage floor paints are available in various colors to give homeowners a chance to add a sense of color and personality to their garage floor.
Garage floor stain can also be applied, but such kind of coverage will protect only from mold and create a pretty view of your garage. Anyway, the surface can leave slippery and wouldn't be protected from oil, scratches, and other damages.
Garage floor paint vs sealer
Garage floor paint and sealer are both products intended to make your garage floor look good by giving it a new coat of paint. Both products are typically applied over your existing concrete floor, and there are differences between the two.
Think of the garage floor paint and garage floor sealer as two applications: a paint applied to bare concrete is garage floor paint, while paint applied over existing paint is a sealer.
Best garage floor paint colors
You have just built a new garage, and you want to upgrade the floor to a better and safer one. For that, you need the best garage paint colors. There are a lot of colors to choose from for your garage floor. The best garage floor paint colors will depend on what your car-owning lifestyle entails.
Red garage floor paint
Red garage floor paint is an affordable floor coating option that is becoming increasingly popular. This floor paint type is a great choice for a floor that is easy to clean and will not show the effects of water and oil stains.
Most red garage floor paint types are acrylic-based, which means they should be protected from direct sunlight for prolonged periods of time. Red garage floor paint needs to be kept in a cool, dry place. The best time to paint a floor is during the spring or fall.
Black garage floor paint
The most common question about black garage floor paint is how well it holds up. Black garage floor paint is known to stay black for a long time, with no chipping or cracking. The reason for this is the high quality of the paint and the sealer that comes with it. Easily one of the most popular colors available today, black is a deep and rich shade ideal for use in any room.
Textured garage floor paint
Textured garage floor paint is often the best choice for those who are looking to add a little bit of class to their garage. While many homeowners assume that commercial grade garage floor coating is the best choice, textured paint is a viable option that many people prefer.
Blue garage floor paint
Blue garage floor paint is the perfect paint to use for your garage floor. It's a solid color, and though it will not hide the imperfections in your floor, it is a nice solid color that will make all your tools and bikes and other stuff look a lot nicer. It is recommended to use a roller to apply the paint and use a paint sprayer, but if you do not have these, then a paintbrush will do the job well enough.
Grey garage floor paint
Grey garage floor paint comes from a specific type of concrete stain that is actually a zinc oxide primer combined with an epoxy resin mixed together when applied to the concrete. This type of stain is a great choice when it comes to garage floor paint since it provides long-lasting protection that will keep your garage floor looking great for years to come.
White garage floor paint
When people think of garage floor paint, they immediately think of the vibrant colors that are available. How about white garage floor paint? White garage floor paint is not as popular as other colors, but the right white can make your garage a much better-looking space.
The right white garage floor paint will offer a bright white color that will lighten up your garage space and make it look nice.
FAQ
What Is The Best Paint To Use On A Garage Floor?
Garage floors are often painted with epoxy-based paints, but the best garage floor paint may be a water-based product. Water-based paints are easier to clean than epoxy paints, and they can be applied to wet concrete if you follow the manufacturer's directions. Water-based paints also dry faster than epoxy paints, which means you can drive your car or truck into your garage sooner.
Is Painting A Garage Floor A Good Idea?
Garage floors are an eyesore, no matter how organized and clean your garage is. But there is an easy solution to your problem.
Painting a garage floor is not only easy and cheap, but it is also very durable and will last you for a long time. So garage floor painting is an excellent idea for everyone who wants to improve their home living and make garage cleaning one of the easiest homework.
How Long Will The Epoxy Garage Floor Last?
Epoxy flooring is a clever alternative to traditional floor covering. Unlike most flooring options, epoxy won't crack or chip and is virtually impossible to dent or mar. It is a truly tough option.
Epoxy flooring is a kind of epoxy coating for garage floors, or more generally, for any other industrial flooring such as found in automotive workshops, airports, factories, warehouses, and even in schools and hospitals.
The average life of garage floor epoxy 2-3 years, depending on the manufacturer. The service life is also affected by the intensity of use of the floor, the degree of regular damage.